Well, first of all the Studio is a disaster. It looks like 5 tornadoes went through. I decided as I cleaned I'd rearrange a bit and purge. So the transformation is underway now.
Oh and I have to make room for my new
Silhouette
! It was 75% off at

Archiver's

. It's not the SD version, but it was 75% off. I am so giddy and it is giving me motivation to clean!
Next, I came across the Scripture Challenge on
Patter's

Blog
. I am going to figure out what format I want to complete this in (6x6 or

ATC

) and then get it underway.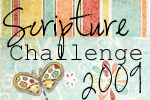 And lastly, a shout out! I purchased a
Scor

-It
board a while back. It wasn't centering my scores like it should, so I contacted the company and they sent me a new one. (you can see below how the metal bar isn't lined up on the zero~makes all the measurements off). I was super impressed. I can't wait to use it!